The Best Email Validators in 2019: Top 3 Email Address Checkers
If your business has a mailing list, chances are that some of the email addresses are invalid or out of date. Even current customers may have made a typo when entering their address, leaving you out of touch with them.
If you're serious about building your mailing list, you will need the support of a good email validation service. Here's the rundown on what email validation is, why it's important, and which email validation services do the best job.
What is Email Validation?
Email validation is any process that ensures that an email address is real, valid and is currently in use, minimizing your bounce rates, improving sender reputation and delivery rate. Email validation services provide tools that help you authenticate email addresses. There are three major ways of validating your emails:
Syntax Check: eliminate the typos. Syntax check is considered the simplest form of validation. If the email address entered does not match up with the already known syntax, it will ask your customer to re-enter their email address. This basic validation method catches a lot of typos.
Domain Check: verify the domain name. If the entered domain does not match any of the valid domains, the tool will flag the email or ask the customer to re-enter.
Outdated Email Address Check: validates your current mailing list to ensure the emails are valid.
Why is It Important to Validate Your Emails?
Regular email verification improves the success rate of your email marketing campaigns:
Delivery rate. Ensuring that your mailing lists are valid improves your delivery rates. The more your emails bounce, the more it affects your sender reputation and eventually the delivery rates
Budget. Sending out emails to invalid email addresses not only negatively affects delivery rates, but also wastes your valuable budget which you could spend on useful marketing efforts.
Email Marketing Reports. The more invalid emails you have in your lists, the harder it is for you to keep track of your campaign stats. If the CTR was only 5% on the last campaign, was the campaign unsuccessful or perhaps your mailing list was out-of-date?
Domain Reputation. When a lot of the emails you send out are rejected, there is a chance your email domain will become blacklisted by email providers. Email service providers have to deal with a truly insane amount of spam: open your email, go to the spam folder, and see how much irritation your spam filter has been saving you. This is great for customers, but it can be challenging for legitimate businesses because of the way spam filters work. Spammers oftentimes use random character generators to send their emails. For example, a spammer may send a message to 1@gmail.com, 11@gmail.com, 111@gmail.com, 1a@gmail.com, 1b@gmail.com, etc. This is an efficient way to automatically send a spam message to millions of addresses, but it results in spammers sending tons of emails to invalid addresses. Email providers know this and blacklist entire domains that have high rejection rates for their emails. If this happens to your domain, every single one of your emails will end up in your customers' spam box. Email validation services can prevent this by ensuring that you're sending mail only to real addresses.
The Best Email Verification Services: How Did We Evaluate the Email Validation Service Providers?
There are plenty of email validation service providers available on the market today, but we have narrowed our report down to three which in our opinion offer the most versatile, efficient and secure services, tools and pricing plans. With each of these three services being the 'cream of the crop', we looked at those aspects that you might find 'appealing' based on your unique needs and goals.
Here are the major criteria we looked at when analyzing the email checkers:
Email Checks & Useful Add-Ons. Services include basic checks like domain, format, typos and run SMTP tests. However, some of the services add a little spin or additional proprietary checks that are set them apart from other counterparts.
Security. Security is one of the most important criteria to keep in mind: you are uploading other people's emails onto a third party site after all.
Accuracy. We have analyzed the top three most accurate services on the market.
Price. Although this list was not compiled based on the budget, the services listed here have flexible plans which will appeal to variety of businesses with large or small mailing lists.
Bulk Verification. Some services make bulk verification and list cleaning complicated and expensive option. We paid close attention to the bulk email services when compiling our 'top list'.
Processing Speed. Speed is important for larger mailing lists with a lot of day-to-day subscribers. The email verification speed varies from service to service. If you have smaller mailing lists you probably will not see that much of a difference. However, for companies with bigger mailing lists (like e-commerce stores for instance) the speed will make a world of difference.
User-Friendliness. We paid close attention to ease of use and available functionality.
Byteplant's software is made in Germany, focused on high accuracy, maximum performance and security.
Byteplant offers a real-time email validation API as well as bulk validation and list cleaning services.
Pricing
Byteplant's pricing plans are flexible. There are two payment options: pay-as-you-go and a monthly subscription.
You can add credits to your account anytime by making a one-time payment.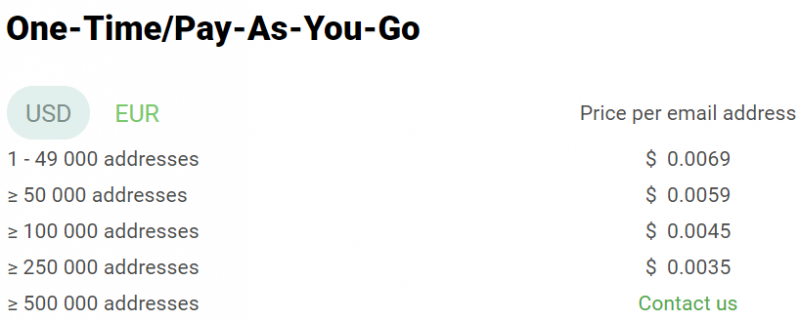 Another option is a monthly subscription. You pay a fixed amount once each month and the credits will be added to your account automatically.

If you expect to validate emails on a monthly basis, the subscription-based plan will get you the best deal.
The other thing to keep in mind is that Byteplant offers a 30 days unconditional money back guarantee policy. You can also benefit from a free trial. All you have to do is register a free account. After that, you can upload a mailing list of 100 emails and Byteplant will validate them for you free of charge.
Unique Features
One of the unique features that makes Byteplant stand out to us: they check each email address live in real-time and provide extremely detailed reports that you cannot find anywhere else on the market. The report will be divided onto valid, invalid, suspect and indeterminate emails and includes information about misspelled domains (to prevent typosquatting) and Catch-All domains. Each email will have a unique status based on which you can determine why exactly the email address was deemed valid, invalid, indeterminate or suspect, providing additional opportunities to evaluate your list and decide what to do with the email instead of just removing it from your list.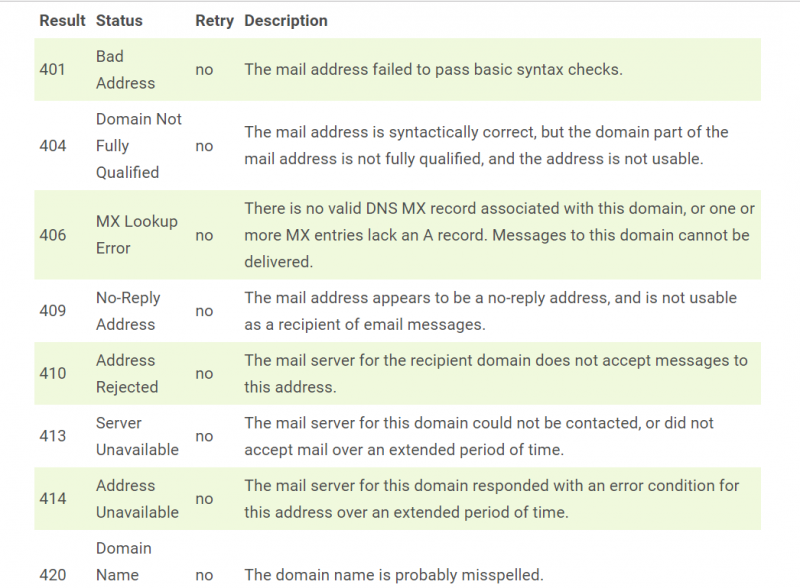 Byteplant has some of the best customer service support. They have a highly skilled and knowledgeable team to guide you through any hiccup that might get in your way. In fact, we found their customer service to be the most tech-savvy.
Verification Checks
Byteplant offers two major types of email validation:
Real-Time Online API. Byteplant's lightweight API is easily integrated into your sign-up forms, CMS or application to verify the emails right at the point of entry.
Bulk Email Checker and List Cleaning Services. You can upload your mailing list and get detailed report with detailed description for each of the emails.
For all this to work, Byteplant runs a bunch of different types of checks
Syntax verification (IETF/RFC standard conformance)
DNS validation, including MX record lookup
Disposable email address (DEA) detection
SMTP connection and availability checking
Temporary unavailability detection
Mailbox existence checking
Catch-All testing
Greylisting detection
Automatic retries for greylisted addresses
Automatic retries for unavailable servers
Automatic duplicate removal
In fact, Byteplant offers the widest and most thorough variety of checks that email has to go through to keep your mailing list clean and safe. Moreover, they will automatically remove duplicate emails (the feature that is rarely available).
Processing Time
With Bulk verification processing time always depends on how many emails you are processing. You can choose between a 2-hours express check and the 72-hours extended check, both at the same price. They guarantee to get the list back to you at the latest within 72 hours, but usually you will get it much faster (being German, the team leaves the wiggle-room to make sure they are never late so you can plan your time and campaigns accordingly). The response time of their real-time API is usually less than 750 ms.
Security
Byteplant has one of the most advanced security systems. Moreover, being based in Germany they operate under the EU GDPR and BDSG privacy & data protection standards - your emails are in safe hands.
Any data that you upload/share gets automatically deleted within 14 days - with Byteplant security and privacy is not something you will have to worry about.
User Interface
The interface is extremely straightforward with detailed instructions in case you are confused. Their customer service will also be there if you have any questions. You can choose from many different languages.
Cons
With usability, security, accuracy, processing times in check, what are the cons?
Being based in the EU, they operate under the strict European privacy protection legislation. So before you start using the services, you either have to agree to standard data processing agreement, or make your own personalized agreement with Byteplant. But on the upside, working with such meticulous law-abiding European company also gives you a peace of mind given that you are sharing very sensitive customer data.
User Reviews
There are plenty of world-known companies that trust Byteplant with their email verification needs, which include: Adobe, Citrix, Autodesk and Shell. We have not found any outright negative reviews, with companies finding Byteplant easy to use and secure. Some complain that the results for list cleaning take longer, however, they nevertheless choose to wait extra time to get the accuracy and detailed reports.
NeverBounce is known for their user-friendly tools for email validation and bulk validation. The service was originally created by a digital marketing agency for their own purposes and has since grown into a full-scale service. They offer all the most important tools you might need from an email validation service: email validation API and bulk scanning that's highly rated and have a number of high-profile customers.
Pricing
NeverBounce uses a one-time payment system for their pricing plans. They are cost-efficient and are considered one of the cheapest companies for email validation. They also provide an incentive for smaller customers: the first 1,000 API validations every month are free. This makes it very affordable for local businesses, which can be lucky to get that many signups in a year. After that, you will be charged $0.008 for each email. Also they are known to provide discounts so contact them in case you want to bargain for better rates.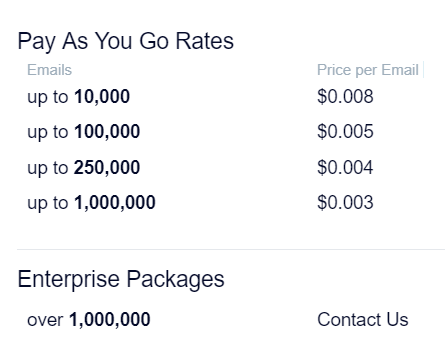 NeverBounce's Features
NeverBounce offers bulk email validation services, single email checks, custom API as well as widgets that are easy to integrate.
List Cleaning. You can upload and validate your emails right from the NeverBounce platform.
Custom API Solutions. You will be able to connect to NeverBounce API for single email checks or bulk validations. Although this feature is mostly aimed at more tech-savvy customers, but it provides the flexibility that a lot of companies need. You can either do it yourself from scratch or use the API wrappers.
JavaScript Widget. Allows the customers that are not as tech-savvy to quickly and seamlessly integrate the API with the online forms using the code snippets.
Moreover NeverBounce can be easily integrated with most email platforms for easy data transfer.
Verification Checks
NeverBounce uses real-time data in its verification process automatically removing duplicate addresses at no extra cost to you. High risk or potentially harmful emails are also deleted from the lists. Here are some of the checks:
SMTP checks
Domain health checks
DNS validation
Syntax Checks
Processing Time
NeverBounce can process a list of 10,000 email addresses within two to ten minutes. The larger your email list is, the longer it will take. They do not have a cap on their time limit but 100,000 emails might take at least 45 minutes. However, with the more accurate manual check the processing time extends substantially and will depend on the amount of emails on your list.
User Interface
Your account has a dashboard that will display the results or you can download the results in Excel. You can use pie charts or line graphs to visualize your data on the dashboard. NeverBounce is easily integrated with major platforms so you can transfer your data directly.
There are two options for connecting your API, one is for more tech-savvy users, and another one is for simpler integration into your forms using code snippets. For either option, there is a pretty straightforward API documentation available.
Security
Considering that NeverBounce is trusted by some of the largest global enterprises, your data will be in safe hands. However, it is not very clear from their Terms and Conditions how long your data is stored after you upload it.
Cons
NeverBounce is great from many different perspectives, however, there are certain aspects that need improvement.
Firstly, the reports that you get are quite vague. The reports will just tell you that the email is 'Invalid' but will not go into any additional explanation. Moreover, the 'Unknown' result leaves most people wondering as, unlike other email validation services, NeverBounce does not go into any additional detail. But, on the other hand, if you prefer the simplicity with 'yay/nay' feedback, NeverBounce is a great and accurate tool.

Secondly, it is unclear how long NeverBounce stores your data after you upload it. Although they are secure, the commitment to delete the data after a certain time would give customers peace of mind.
User Reviews
Without a doubt, NeverBounce is one of the most popular email validation services out there and that says a lot.
Majority of customers are happy with the results and services they have received from NeverBounce. Some users wish NeverBounce would provide more detailed reports, while others complain that although friendly, the customer service is not really knowledgeable when it comes to more complicated issues.
ZeroBounce is an email verifier with plenty of add-ons that customers love. Aside from 98% accurate bulk email verification services, ZeroBounce offers unique features like online activity score of a particular email, full name, location and more. So if you are working with email-only list, then ZeroBounce is your go-to email checker and tool.
ZeroBounce's Pricing
ZeroBounce offers flexible pricing plans. You get 100 free monthly validations and for anything above that you have to choose one of the plans. There is pay-as-you-go plan with no commitment, premium and enterprise plans. With pay-as-you-go model the more credits you buy, the less you pay: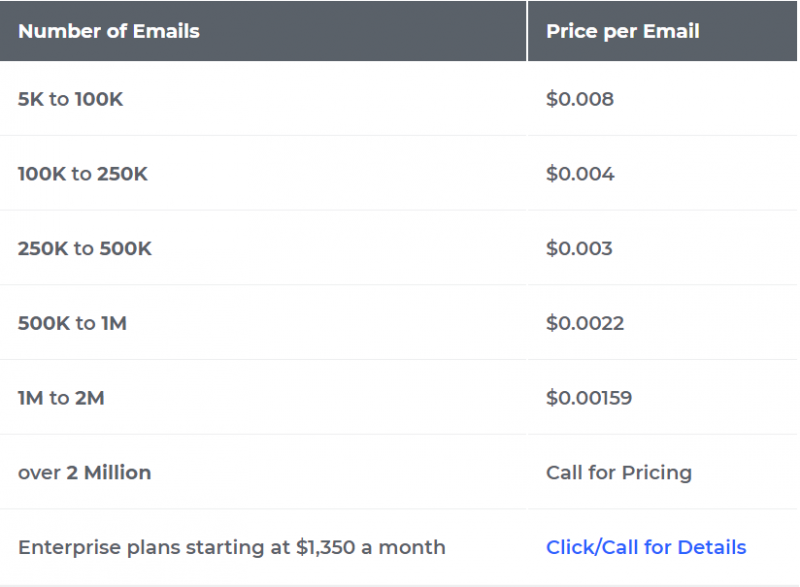 ZeroBounce's Features
ZeroBounce offers some features that no other email verifier services has:
AI Email Scoring. One of the unique features from ZeroBounce. It uses Artificial Intelligence to rate the value of the particular email address to analyze your contact's online activity.
Email Address List Append. The second unique feature aimed at improving your click-through and conversion rates by providing useful information like name, gender and location of your contact.
Processing Time
ZeroBounce's verification service can take anywhere from one to three hours to validate a list of 100,000 email addresses. They start the verification process almost immediately when your list is uploaded. The bigger your list though the longer the wait time.
User Interface
You will get a clear downloadable report. Every report you download is protected by password for added security. The report will include the information about the emails along with the range of checks you have specified depending on your plan and preference.
Security
The ZeroBounce is registered with the Better Business Bureau and certified with the EU-US Privacy Shield. Their servers use Cloudfare for protection. Any data you upload to their servers will be permanently removed within 30 days. Your data is encrypted using military-grade technologies.
Cons
ZeroBounce does not offer any dashboard and all the reports have to be downloaded, which can sometimes be difficult for customers that use large volumes of data.
Moreover, ZeroBounce does not offer an API which can be integrated into your website, form or platform for real-time validation like NeverBounce and Byteplant. While it is not necessary for some users, it can be crucial to others. Thus, before you decide on using ZeroBounce consider if you have any real-time email validation needs or if you need to connect to an API for any other purposes.
What Users Think About ZeroBounce
Most customers using ZeroBounce are happy with the services they get. After all, while their service lacks the integratable API, they totally make up with other cool features.
This tool will be perfect for you if your subscribers provide only their email without a name or if you prefer to segment the lists based on additional information like gender or location.
So Which Email Validation Service Should You Choose?
As you can see there is no one-size-fits-all when it comes to email validation services. The services provided in this report are top three available on the market in 2019 with the most versatile set of perks, options and advantages. All three are secure, unique, cost-efficient and fast. Here is a rundown of what in our opinion makes each of these three services unique to hopefully help you make a more informed decision when it comes to your unique needs and goals:
Byteplant: the most thorough email validation checks and accurate reports offering detailed explanation for each email address, personal approach to every customer, secure and straightforward policies.
NeverBounce: fast and efficient services, clear reports with no bells and whistles, discounts for startups and non-profit organizations, convenient dashboard, integration with various platforms and email service providers.
ZeroBounce: plenty of unique features like gender, location and full name information for additional personalization along with the online activity of the particular email address to save you the budget on 'inactive' prospects.