Google's New Aug 1 Algorithm Update: Were You Affected?
As most of you probably already know, on the 1st of August Google rolled out its 'broad' algorithm, which was since called by some bloggers 'Medic Update'. Danny Sullivan ( @searchliaison) tweeted that the websites that were previously under-rewarded are now getting the credit and that there is 'no fix' if your traffic had dropped, except doing 'the usual' to make your site better for your users.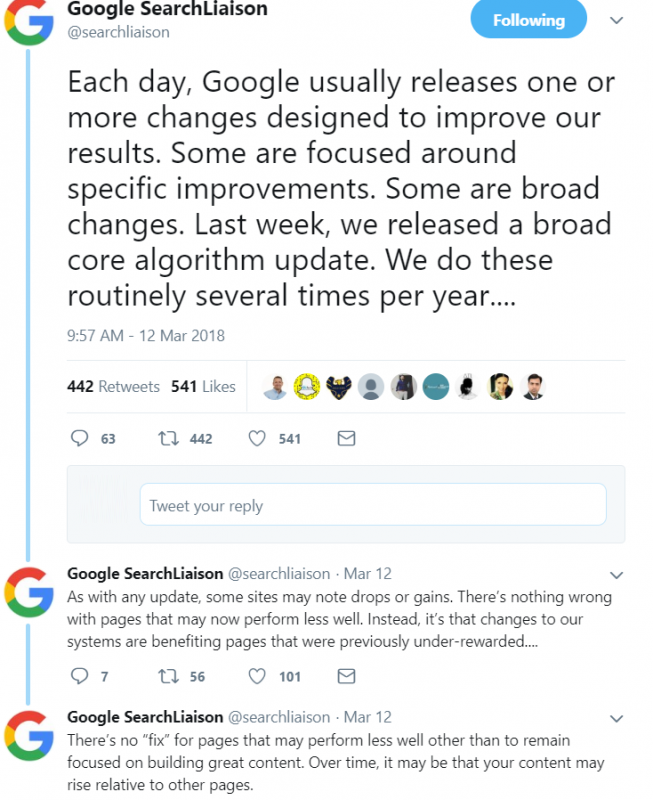 Despite this fact, a lot of SEO specialists have been speculating across various forums, why would the algorithm affect one site and improve the other.
The first assumption was that the update had hit the Medical sites (which is why the name Medic Update) as well as YMYL websites. However, I am seeing a lot of examples across forums that this may not be the answer, as there are websites across other niches and industries that have been affected and medical websites that were not. So this does not seem to be a 'healthcare update'.
There were other speculations like content quality, links, traffic volume, ads-above-the-fold, which are of course the factors, but these seem to have always been the ranking factor and this particular update does not seem to have to do with any of it.
So What Is Up With the Google's Algorithm Update and How to Fix It?
Despite the fact that we have been told loud and clear that there is 'no fix', when your websites experience up to 80% drops you cannot exactly sit and write 'engaging' content for the next year hoping it will shoot again.
And while these guesses might not really deliver solutions, understanding why this has happened might be your best bet for getting your rankings back.
Since the new algorithm rolled out and till today we have made a lot of attempts to find some correlations. We still have a lot of information to analyze, but based on the analysis of 53 websites in different niches, we noticed the following:
Websites with the similar amount of content (as well as content structure) and similar amount and quality of backlinks but with lower page speed experienced drops in rankings - page speed.
Websites with the lower amount of high-quality backlinks dropped in rankings while websites with stronger (read quality) backlink profiles experienced a significant increase in rankings - good backlinks.
We also noticed the impact of different types of anchors (while on the analyzed group of websites rankings were stable for a long time, after this update we definitely see the difference) - natural anchors.
This algorithm seems to be a classic example of the multi-armed bandit - that is why Danny Sullivan said that there is nothing to fix: multiple factors (and their combinations) are at play. Therefore, to fix it, you have to carefully analyze your website: structure, content, backlinks, anchors, find your weak spots and fix it. For instance, carefully analyze your backlink profile: do you have 20k backlinks and 19k of those links are from irrelevant or spammy websites. This means that the website with 2k 'natural' links will be over-ranking yours now.
Or possibly two-thirds of your link anchors are 'commercial', while it is always best to 'diversify' your anchors with branded and natural ones.
Did Google's New Algorithm Update In August 2018 Hit Medical and Healthcare Sites?
I am inclined to disagree with the statement that the new Google's update hit the medical websites. Why?
The 'healthcare' industries, especially those that focus on selling various medical products as well as financial industries (that seem to have been hit the most by the roll-out) tend to have a lot of 'marketing' activities done for their websites, and as we all well know, not all of the techniques used are completely 'white hat'. So it only makes sense that these would be affected. We have clients as well as our own projects in the healthcare niche that only saw improvements after the update (don't mean to brag but we are very thorough and careful with SEO efforts).
Also, if any of you can remember, in June-July a lot of PBN's were deindexed by Google, therefore some websites (a lot of which happen to be in this industry) lost a lot of their links. So makes sense that the effects of losing a lot of the links would hit by now. Thus how can we assume that the algorithm targeted certain niche when it was the combination of the PBN's getting hit earlier and questionable and/or not well-structured marketing efforts.
So the bottom line, in my humble opinion, is that the update was really general, not aimed at anyone in particular. With that said, you can do something to 'fix' it. And this 'something' is being more thorough in marketing efforts, auditing your site, fixing any issues - and sooner or later you will bounce back to where you were.
Google just tweaked and tightened their existing rules with this new update, making sure that the 'deserving' websites rank higher than the 'undeserving' ones. Thus there is nothing new with this update, huge websites with a lot of natural links and link juice (and by natural often we mean well-planned clean backlinks) improved their rankings. Those with low-quality links, low page speed or the guys who still believe that content is king, are sinking.
Bottomline
Google's algorithms are evolving, so it is imperative to be aware of all trends in the local search and in the organic and constantly analyze which factors and their combinations have a greater influence on the rankings of the website.