FortySeven's Aleksandrs Malins & Igors Astapchiks: Outstaffing Software Development Services Is the Future Of FinTech
Adoption of FinTech is growing globally, according to EY FinTech Adoption Index 2017, the average percentage of digitally active consumers using FinTech services reached 33% across 20 markets globally. It is mentioned in the report that it could increase to an average of 52% globally, with the highest intended use among consumers in South Africa, Mexico, and Singapore. However, money transfer and payments services remain the most widely used at 50%. But what about Israel? Israel is known as the 'startup nation' and a lot of entrepreneurs there are creating startups in the FinTech arena. We met the partners of an IT outstaffing company FortySeven Software Professionals Aleksandrs Malins and Igors Astapchiks to talk about their case study: Venture Capital firm from Israel investing in FinTech.
Could you please introduce yourself?
Aleksandrs Malins: We are Aleksandrs and Igors, company partners at FortySeven Software Professionals . We have deep background experience working in the software development industry for almost 12 years. We founded FortySeven as a software solution and development service provider in 2006. Our company is known as a high-quality IT services provider with reasonable prices.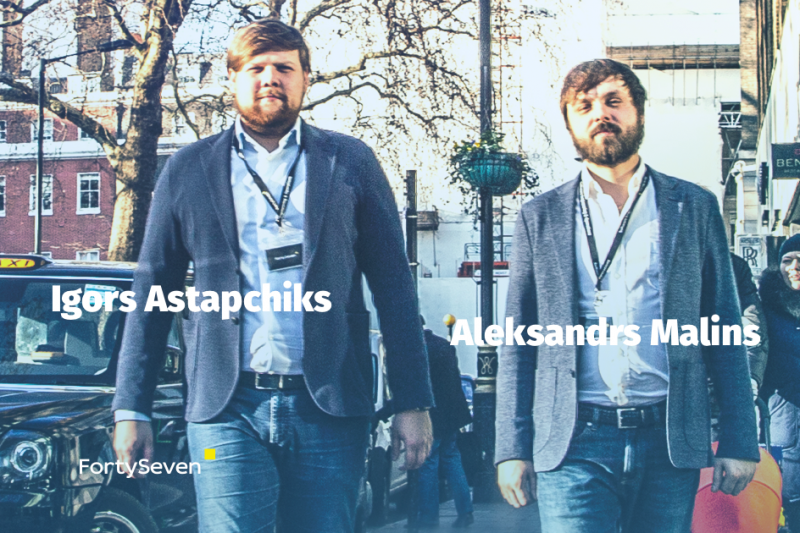 What are the IT services provided by your company?
Igors Astapchiks: Our services include Development Services, QA services, Audit and Consulting, Developers team expansion or as we call it - Outstaffing. We have an extensive team of IT specialists who can become part of our customer's team. Here is how it works. For example, our company is approached by a potential client who works in the oil and gas industry. The first step is always about the client's requirements, his needs, goals and the result he wants to achieve.
It's very important to find the right direction, to come to the same understanding of how the business works. Every case is unique so that we can advise our client to make his order by ourselves with or without active client's involvement or to expand his team of specialists with our developers in a specific field of expertise which he is missing at the moment.
Such a mix of the client's team of specialists and our developers creates a real synergy so that in the end our client gets exactly what he needs, benefitting from personalization, scalability, and cost-effectiveness.
What is the area of expertise of your developers?
Aleksandrs Malins: We have successfully completed more than 100 large projects in different industries ranging from banking to healthcare. Among our partners are such companies as Parrot, BASF, The Linux Foundation, Universidade de Coimbra and others. Our deep and vast expertise can be leveraged whether the client wants to scale up his existing business or to start a new project. Here is the wide, but not the total list of industries where we can implement our expertise: Enterprise Resource Planning, Customer Relationship Management, Fintech Services, Blockchain, Digital Rights Management, Machine Learning, Big Data, Ad Tech, E-commerce, Energetics, Linear Programming. Majority of our current clients are mostly working in such industries as Fintech, Energy and Commodity Trading, Artificial Intelligence and Machine Learning. We work to enable businesses to take control of IT and align it towards achieving their goals and objectives.
Talking about developers in FortySeven, where are they originally from and where do you work territorially?
Igors Astapchiks: I can definitely say that we are an international European team. Our main office is situated in London, UK, and we have two support offices in Belarus and Latvia. Our developers work in London, as well as in Belarus and Latvia. Our customers are based in different countries worldwide, starting from the USA, Canada, England, Denmark and to Singapore, Japan, and the Philippines.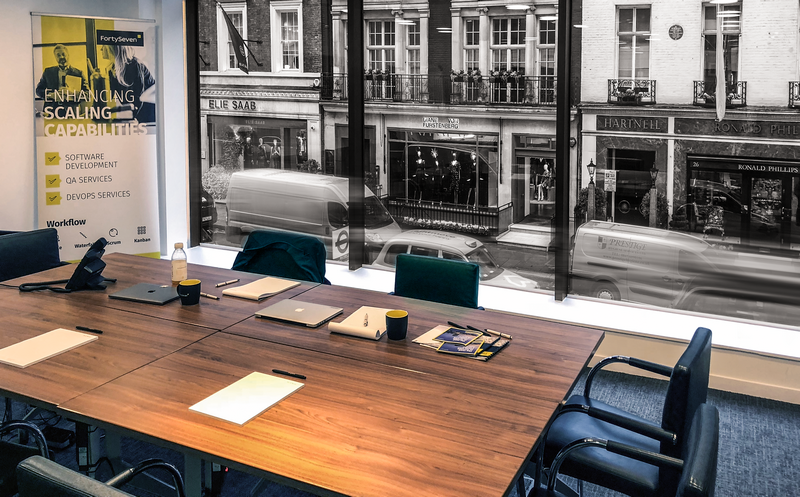 Can you describe your typical client and share your case study with us?
Aleksandrs Malins: Some of our clients are enterprises from different areas that are searching for opportunities to expand the development team to enhance software engineering and operations capabilities within a predetermined budget.
Our last case study was an established Venture Capital firm investing in FinTechs based in west London with two international branches in Tel Aviv and Hong Kong that invest in Financial Technology startups. The firm approached FortySeven to help expand the development team of one of the startups they have invested in to enhance the software engineering and operations capabilities within a preset budget.
What was the main requirement?
Aleksandrs Malins: The client required FortySeven to provide a fully dedicated team of experts to take on certain development tasks and speed up the development time in a cost-efficient way while taking full control of the development process and Intellectual Property ownership.
Could you describe the process in more detail?
Igors Astapchiks: After assessing the structure of the development team of the startup, we incorporated a number of experts as required by the chief technology officer of the said company and executed the tasks as instructed within the time deadline.
Is it an example of outstaffing that you mentioned before?
Aleksandrs Malins: Exactly. We scaled our client's team according to their requirements and the budget.
What workflow did you use?
Igors Astapchiks: The startup development needs were achieved using Agile and Scrum development methodology using Sprints that allowed for adaptation and flexibility throughout the process based on Time & Materials.
Is Agile the most common form of workflow?
Aleksandrs Malins: The main thing is that we are flexible at FortySeven. Due to our extensive experience, I can say that we worked with a wide range of approaches: Waterfall, Scrum, Kanban, and Agile. The main advantage of Agile is the ability to scale and we find this very useful in our industry. Also, according to the PMI's annual project management survey, The Pulse of the Profession 2017, 71% of organizations reported they used Agile approaches with their projects sometimes or more frequently than in the past. Nowadays, Agile is really becoming a topic of growing importance in project management and innovation.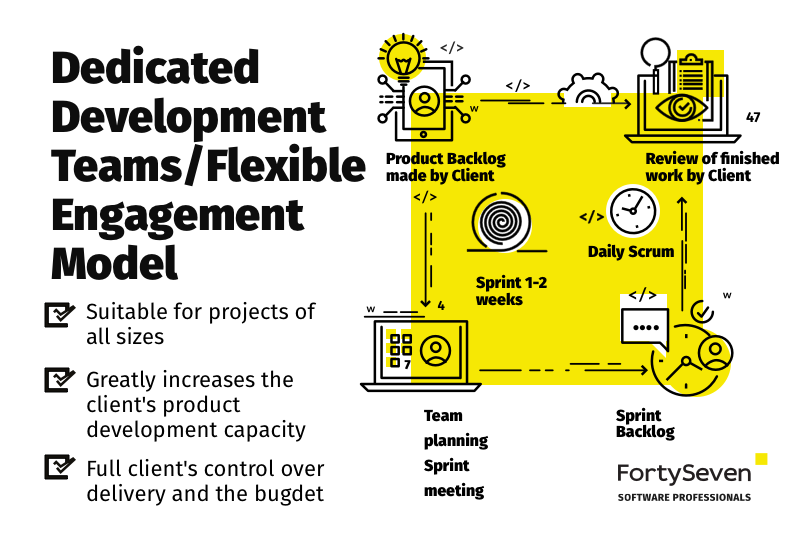 What were your responsibilities?
Igors Astapchiks: Our technical writer's team responsibilities were Technical specifications development.
Developer's team was working on Software development, QA and Information infrastructure development. Designers team worked on User Experience, User interface, and Product Design.
What was the result of your collaboration?
Aleksandrs Malins: The client had total control over the project from start to finish. By providing total transparency of the cost and time estimations, we helped the company to complete the software development plan within the deadline. Also, we provided some suggestions and implemented new tools to the team, to further optimize the working processes in the future.
Moreover, the startup launched a commercial version of the project within the budget and successfully attracted the round of investment after development.
What does your client usually get?
Igors Astapchiks: All of our customers know that we are always eager to help. We have a vested interest in the successful outcome and customer's business augmentation. All of our activities are legal and certified, providing security and peace-of-mind to our clients. FortySeven has been certified according to the ISO/IEC 27001:2013 (Information security management system) and ISO 9001: 2015 (Quality management system). Moreover, we provide each client with professional analysis and consultation regarding the project, suggestions on tools, methods, and solutions needed. All our prospective clients get detailed cost, roadmap and delivery timeframe estimations.
What do you envision for FortySeven and Global Development Market in the long-term?
Aleksandrs Malins: We are excited about the future. I can definitely say that the process of digitalization will become one of the most significant issues for entrepreneurs and businesses. According to Gartner, Inc by 2030, 80% of heritage financial services firms will go out of business, become commoditized or will exist only as a formality but will not be competitive. And this is just about the finance industry. The world is changing every day and we need to adapt our services to the new reality. I'm quite confident that our services, especially outstaffing, will become a well-established practice for all the industries in the near future. Concerning FortySeven, our main goal is to increase the number of major partnerships, providing full-cycle services. We aim at enhancing our clients' capacity to grow, scaling up their business and becoming a trusted long-term development partner.